Jobs
Cachar College Recruitment 2023: Apply now for 09 Vacancies of Assistant Professors
The advertisement of Cachar College Recruitment 2023 is out for vacancies of Assistant Professors in various departments, check all details here and apply now.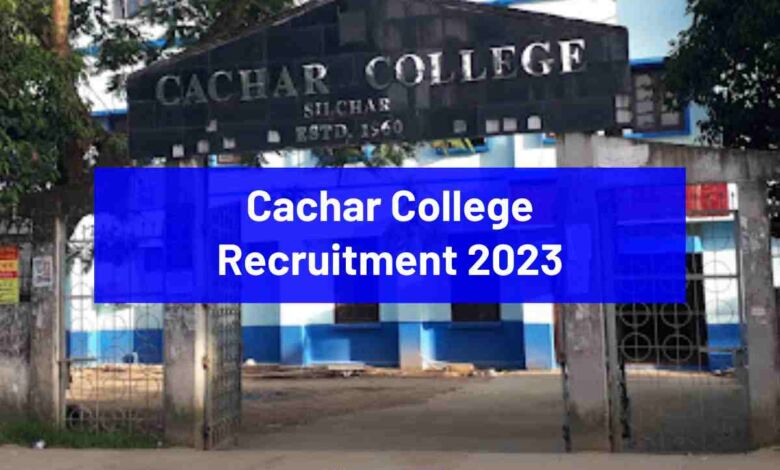 Cachar College Recruitment 2023: The Cachar College of Silchar, Assam released an advertisement on the 20th of September, 2023 announcing vacancies for the post of Assistant Professors. The notification was issued in compliance with Government notification no. AHE. 06/2022/Pt 04/dated 03.02.2022 conveyed under Director of Higher Education (DHE) of Assam letter no. DHE/CE/Misc/492021/Pt/5 dated 09.02.2022.
There are vacancies in 6 departments and the application submission process for Cachar College Recruitment 2023 will be open for 15 days. Interested candidates can follow all the given information including post details, eligibility, etc., and apply for the given posts.
Also Read: RBI Assistant Recruitment 2023: Get complete details & apply now
Vacancies for Cachar College Recruitment 2023
| Name of Department | UR | PwD | Total Posts |
| --- | --- | --- | --- |
| Arabic | 01 | – | 01 |
| Bengali | 01 | – | 01 |
| Manipuri | 01 | – | 01 |
| Philosophy | – | 01 | 01 |
| Physics | 03 | 01 | 04 |
| Sanskrit | 01 | – | 01 |
| TOTAL | 07 | 02 | 09 |
Salary
The salary of the selected candidates for the vacancies advertised under Cachar College Recruitment 2023 will be as per the UGC's Scale of Pay and other allowances as admissible (Scroll below to read the UGC's notification regarding the same).
Eligibility Criteria
There are various eligibility criteria to be selected under Cachar College Recruitment 2023. The important criteria are given below:
To be considered for a teaching position at Cachar College, you must have a good academic record. This means you should have scored at least 55% marks in your Master's degree in a relevant subject from an Indian university or an equivalent degree from a recognized foreign university
In addition to the educational qualifications mentioned in (1), you must have also cleared a national eligibility test like NET conducted by UGC, CSIR, or a similar test accredited by UGC, such as SLET/ SET
If you have earned a PhD degree according to the UGC regulations from 2009 or later, you don't need to fulfil the NET/ SLET/ SET requirement when applying for the position of Assistant Professor or equivalent in a university or college
For candidates belonging to SC/ ST/ Persons with Disabilities (PwD) categories, the required Master's degree marks can be relaxed from 55% to 50%. However, this relaxation is based on the actual marks obtained without considering any additional grace marks.
If you hold a PhD degree and earned your Master's degree before September 19, 1991, your Master's degree marks requirement can be relaxed from 55% to 50%
Time spent pursuing M. Phil and Ph.D. degrees will not count as teaching or research experience when applying for these positions
Candidates also need to have proficiency in the local language.
Note: To get detailed information on eligibility criteria follow 3.0.0/ 4.0.0/ 4.1.1 clause of the UGC Regulations, 30th June, 2010 (Scroll below)
Selection Procedure
The list of short-listed candidates will be uploaded on the official website and then candidates have to appear for an interview test. They will face an interview board which will consist of a selection committee. The selection committee will consist of the Chairperson, the Principal, the Head of the Department (as per post), and others. Based on the performance of the interview, academic performance, and other qualifications, the selection committee will evaluate the candidates (Scroll below for more details).
How to apply?
The candidates applying under Cachar College Recruitment 2023 will have to follow the given steps:
Candidates who are interested and meet the eligibility criteria can download the Application Format given below and then fill it up
They should submit the filled application form along with photocopies of their academic qualifications, necessary documents, and a Permanent Residence Certificate (PRC) to the following address: "THE PRINCIPAL, CACHAR COLLEGE, SILCHAR, ASSAM, PIN 788001"
Additionally, it is essential to include a self-attested photocopy of the Caste Certificate, if applicable.
Also, candidates need to make an A/c Payee Demand Draft of Rs 1500 as a non-refundable application fee drawn in the favour of the Principal, Cachar College payable at State Bank of India (SBI), Silchar Branch (IFSC Code: SBIN000183 & Branch Code: 000183)
The application must reach the above-mentioned address within 15 (fifteen) days from the date of publication of this advertisement, which is 24/09/2023.
Candidates should note that if they fail to provide these mandatory documents, it will result in the application being rejected without further consideration.
Application Fees
The applications of Cachar College Recruitment 2023 should be accompanied by an A/c Payee Demand Draft of Rs. 1,500/- (Rupees One thousand five hundred) only as a non-refundable application fee drawn in favour of PRINCIPAL, CACHAR COLLEGE payable at STATE BANK OF INDIA, SILCHAR BRANCH (IFSC Code: SBIN0000183 & Branch Code: 000183)
Important Dates
| | |
| --- | --- |
| Release of the notification | 20th September, 2023 |
| Last date to submit application | 4th October, 2023 |
Important Links