Scholarships
Single Girl Child Scholarship 2023: Registrations open! Check Eligibility, Benefits & apply now
The application portal for the Single Girl Child Scholarship 2023 is now open. Candidates who are willing to apply can check out details here.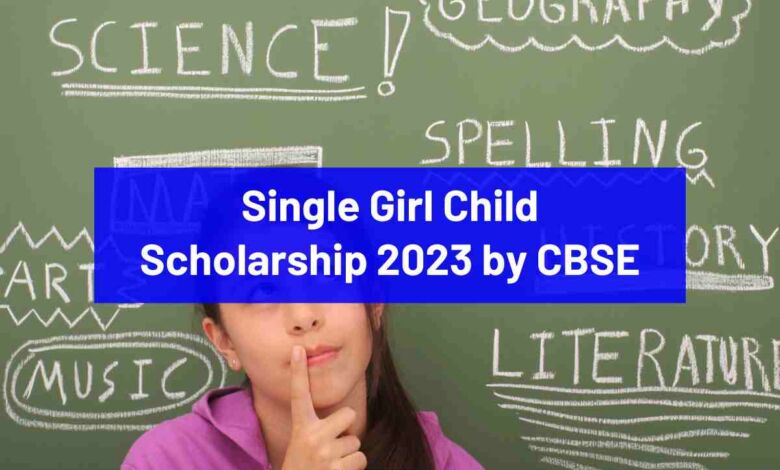 The Central Board of Secondary Education (CBSE) invites online applications every year from eligible students for various Merit Scholarship Schemes. One of these schemes is the Single Girl Child Scholarship 2023. This scholarship aims to provide financial help to meritorious female students who have passed the Class 10th examination from a CBSE-affiliated school and are continuing their further education in classes 11 and 12. Students can check out all the details here before proceeding further with the application filling procedure.
Also read: INSPIRE Scholarship 2023: Golden opportunity for 10,000 students; Apply now
Benefits of Single Girl Child Scholarship 2023
The number of scholarships for a particular year shall be variable and shall be awarded to all such "Single Girl Students" who have secured 60% or more marks in the CBSE Class X Examination in that year.
All the selected students will get a scholarship grant of Rupees Five Hundred (Rs. 500/-) per month.
The duration of the scholarship awarded under the scheme will be for a maximum of two years.
Eligibility Criteria
The Single Girl Child should have passed class X from the school affiliated with CBSE and pursued her education at class XI and XIl in CBSE-affiliated schools.
Female students who are the only children of their parents and who have scored 60% or more marks (in the first five subjects) in class X are eligible for the award of a scholarship.
The monthly tuition fee should not exceed Rs. 1,500/- pm in Class X and 10% enhancement for Class XI and XIl.
The Scholarship awarded shall be renewed for one year i.e. successful completion of class XI and the student has scored 50% or more marks in Class XI and promoted to class XII.
The scholarship shall be awarded to Indian Nationals only.
NRI applicants of the Board are also eligible for the award. The tuition fee for the NRIs has been decided maximum of Rs. 6,000/- per month.
A scholar, under the Single Girl Child Scholarship 2023 scheme, while availing scholarship can also enjoy other concessions (if any) given by the school in which she is studying.
How to apply?
Visit the official website of Single Girl Child Scholarship 2023 by clicking on the link given below
Then click on the "SGC-X – Fresh Application" button
Next, enter your class X roll number and date of birth in DD/MM/YYYY format
Once logged in to the portal, go through the application form and fill it up
Enter all your personal and educational details
Upload the necessary documents in the prescribed format
After completion of these steps, submit the form
Lastly, download and print out a copy of the application form for future reference
Important Dates
| | |
| --- | --- |
| Opening of the Application portal | 19th of September, 2023 |
| Last date to apply | 18th of October, 2023 |
| Starting of verification of application by school | 25th of September, 2023 |
| Closing of verification of application by school | 25th of October, 2023 |
Important Links
Note
Once the candidates fill up the form for Single Girl Child Scholarship 2023, the schools will need to verify the application forms of the students of their school. CBSE has a Scholarship portal wherein the schools may log in and verify the applications.
Scholarship Renewal: All the candidates, who are currently availing the benefits of CBSE Single Girl Child Scholarship X awarded in 2022 need to apply for renewal this year. Such candidates should have passed class XI with 50% or more marks and be promoted to class XII to be eligible for renewal.
For any technical or non-technical queries regarding the Single Girl Child Scholarship 2023, candidates can approach:

[email protected]

.
For more news and updates, click here.