Featured
School & Boards
Acing the CBSE Sample Paper in 2.5 Hours: A Comprehensive Guide for Class 10
CBSE Board exams is just a few months away. In this article, students can find a comprehensive Map to attempt Sample Papers and Board Papers within the time frame.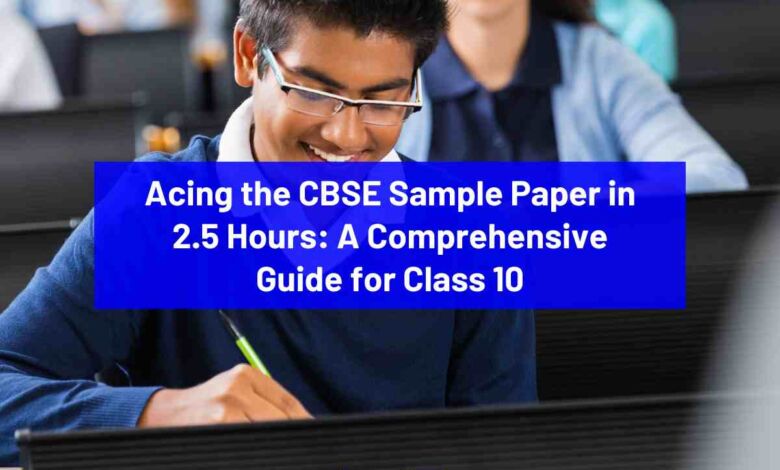 Mastering the art of solving the CBSE class 10 sample papers is crucial for every student aspiring to excel in the CBSE class 10 board exams. Proper time management, smart strategies, and thorough revision are key factors that determine success. Preparing for the CBSE 2024 syllabus can be a challenging task, especially when faced with the time constraint of solving a sample paper within a limited time frame.
However, acing the CBSE sample paper is possible with the right approach and a well-structured plan. Here, we will guide you through a detailed roadmap to help you tackle each section of the sample paper effectively. We will explore a step-by-step guide on effectively utilising 2.5 hours to solve the entire CBSE class 10 sample paper with an additional half-hour for revision. Let's dive in!
Familiarize Yourself with the Sample Paper
Read the instructions carefully. Understand the marking scheme, question patterns, and any special instructions. Create a Time Allocation Plan. Skim through the paper, glance at the questions and allocate time to each section either from easiest to toughest or from time-consuming section to less time-consuming section.
Comprehensive Map for Time Allocation According to Class 10 CBSE Exam Pattern:
| | |
| --- | --- |
| Section D (Long Answer Type Questions) | 35-40 minutes |
| Section C (Short Answer Type Questions) | 30-45 minutes |
| Section B (Very Short Answer Type Questions) | 25-30 minutes |
| Section E (Source-based/ Case-based questions) | 20-25 minutes |
| Section A (Objective Type Questions) | 20-25 minutes |
| Revision | 30 minutes |
Quick Scan and Categorization
Identify different subjects or topics covered in each section of the class 10 sample paper. This will give you an overview of the questions and help plan your approach accordingly. Prioritize your strong areas. Begin with sections that you are confident in, helping build momentum.
Speed Reading and Smart Selection
Skim through individual questions. Read questions quickly and make brief notes to identify which can be answered quickly. Choose the right questions. Target questions that carry high marks and can be answered with relative ease.
Attack the Easiest Section First
Start with the section you find easiest and are most confident about. This will help boost your morale and save time for tougher sections. Always aim to maximize your score in this section.
Revision Strategy
Now, let's utilize the additional half-hour for revision.
Go through the questions you marked for review during the initial attempt.
Check for any unanswered questions and complete them if time permits.
Review your answers for any potential mistakes, grammatical errors, or incompleteness.
Double-check your calculations and ensure you have provided all required supporting points.
Methodical Approach for Each Question
Read the question carefully, highlighting the crucial keywords.
Plan your answer structure and make rough notes if required.
Begin answering, ensuring clarity and coherence in your response.
Stick to the word limit mentioned for each question.
Review your answer if time permits.
Time Management Tip
Allocate time evenly for the remaining sections.
If you encounter a difficult question, move to the next one and revisit it later.
Be mindful of completing the section within the allocated time.
Acing the CBSE sample paper in a time-restricted environment requires a well-structured approach, effective time management, and thorough revision. Following the comprehensive map and implementing the strategies outlined above will significantly improve your chances of success. Remember, practice makes perfect, so ensure you incorporate regular sample paper-solving sessions in your study routine. Best of luck for your CBSE board exams and make the most out of your preparation!
For more Education News, click here.