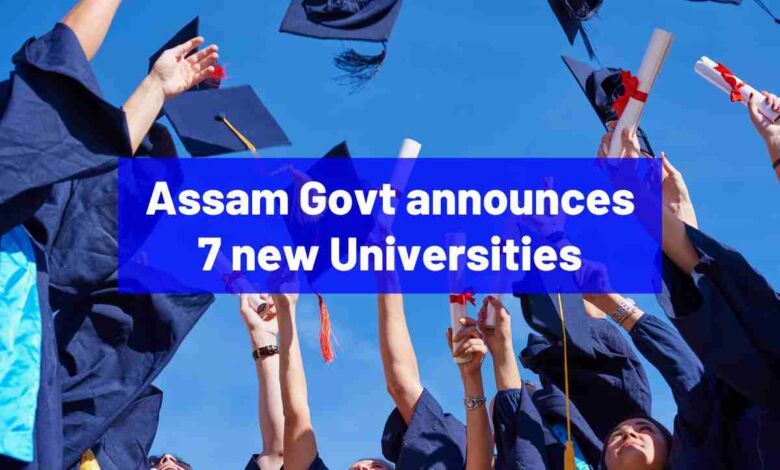 Assam govt announces 7 new Universities: In a bid to transform Assam into an educational hub of Eastern India, the state government has unveiled plans to upgrade seven colleges to university status, increasing the tally of State Universities to more than 20. A small announcement about the same was already made during the North East Research Conclave 2022, which was held at IIT Guwahati.
Chief Minister Himanta Biswa Sarma announced the decision yesterday after a meeting with the principals of these colleges. This step will surely boost job opportunities as well as the number of Higher Education Institutions (HEI) will increase and enhance the education sector he added.
List of 7 New Universities
The list of colleges to be upgraded into new Universities is provided below:
Jagannath Barooah College, Jorhat
North Lakhimpur College, Lakhimpur
Nowgong College, Nagaon
Sibsagar College, Sivasagar
Kokrajhar Government College, Kokrajhar
Gurucharan College, Silchar
Bongaigaon College, Bongaigaon
Salient Features of New Universities
The salient features of the new universities are described below:
Embracing NEP 2020: The upgraded universities will align their pedagogy with the National Education Policy (NEP) 2020, incorporating modern teaching methodologies and pedagogical approaches. This strategic shift will enhance the learning experience and equip students with relevant skills for a rapidly evolving job market.
Improved Infrastructure: The upgraded universities will undergo significant infrastructural enhancements to create state-of-the-art facilities, including modern classrooms, well-equipped laboratories, and advanced research centres. These improvements will provide students with an enriched learning environment conducive to academic growth.
Increased Student Intake: With the elevation of colleges to university status, there will be an expansion in student intake capacity. This move will enable more students to pursue higher education, opening doors to a wider pool of aspiring scholars and professionals.
Multidisciplinary Approach: The transformed universities will adopt a multidisciplinary approach, offering a diverse range of academic programs across various disciplines. This expansion will encourage interdisciplinary collaborations and provide students with a comprehensive education that bridges the gap between different fields of study.
Enhanced Collaborations in Research and Academics: The upgraded universities will foster collaborations with national and international institutions, promoting joint research projects, faculty exchanges, and knowledge-sharing initiatives. Such partnerships will create opportunities for cutting-edge research, innovation, and global exposure for both faculty and students.
Increased PG Seats and Synergy with UG Courses: The upgraded universities will focus on expanding postgraduate (PG) seats, allowing more students to pursue advanced studies in their respective fields. Efforts will be made to enhance the synergy between undergraduate (UG) and PG courses, providing a seamless educational journey for students and nurturing a culture of continuous learning.
Optimal Utilization of Teaching Staff: The universities will strive for optimal utilization of their teaching staff, effectively assigning them to teach both UG and PG courses. This approach will optimize faculty resources, ensuring quality education delivery across different academic programs.
Why Handique Girls College is not considered to be upgraded into University?
As the Assam govt announces about 7 new Universities, many people are concerned about Handique Girls College, as it was considered in the earlier decision to be upgraded into University. However, the upgradation of the College into a university is currently on hold due to insufficient land availability. Chief Minister Sarma acknowledged this issue and assured that the government is actively seeking suitable land for the college's expansion, emphasizing the importance of providing modern infrastructure and a conducive learning environment for students.
For more educational news, click here.