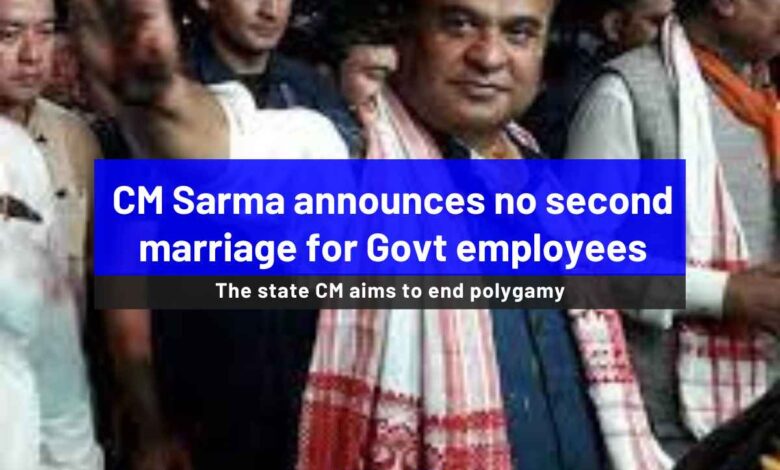 Marriage is a deeply personal choice, a sacred union that is often seen as the cornerstone of our society. In India, a diverse and culturally rich nation, traditions and values surrounding marriage vary widely. Recently, CM Himanta Biswa Sarma announced no second marriage for Govt employees which has raised eyebrows and sparked discussions regarding the fundamental right to marry.
The Assam Civil Services (Conduct) Rules, 1965, have been a subject of debate. This set of rules was created to regulate the conduct of government employees in Assam. One specific provision in these rules requires government employees to seek consent before entering into a second marriage. While this rule has been in existence for decades, it has not been widely enforced, as marriage is generally considered a matter of personal choice.
The legal basis for these rules regarding no second marriage for Govt employees lies in Article 309 of the Indian Constitution, which empowers the appropriate State legislature to regulate the recruitment and conditions of service for individuals appointed to public services and posts in connection with the affairs of the Union or any State. In other words, the government has the authority to set rules and regulations for its employees, including those related to marriage.
Also Read: Assam Police Recruitment 2023 for 5325 Vacancies; Apply Now
Why did CM Himanta Biswa Sarma announce no second marriage for Govt employees?
The government of Assam has cited several reasons for pushing this regulation. One of the key motivations is the desire to control polygamy, the practice of having multiple spouses simultaneously. This is a legitimate concern, as polygamy can lead to various legal and social complications. Additionally, Chief Minister Sarma has pointed out that when a husband or wife passes away, other partners often create disputes regarding property claims, which can lead to legal battles and family conflicts.
A govt job is considered lucrative in our country. According to the Hindu Succession Law-1956, when the employee dies before his or her retirement then the spouse is legally entitled to get the share equal to the children's share. If there is a divorce then she will not get any share of the property but is only entitled to get maintenance and alimony. But many marriages are not even legally divorced! In such a scenario, many logjams occur which creates confusion in administrative matters.
Is this move justified for Govt employees?
This rule regarding abstaining from second marriage for Govt employees raises important questions about the limits of government intervention in personal matters. Marriage is a deeply personal choice, and regulations like these can be seen as infringing upon an individual's right to make decisions about their own life.
It's important to note that Section 497 of the Indian Penal Code (IPC) or Bharatiya Nyaya Sanhita, 2023, which criminalized adultery, was struck down by the Supreme Court of India in 2018. The court ruled that this law was unnecessary, emphasizing the importance of personal autonomy. Though SC has highlighted adultery as a Social Evil, SC clearly mentioned not to drag such matters to the court. The same can be highlighted for this provision. Though this move is created to make a smooth functioning how can the state involve with the personal freedom linked with such laws?
The present situation can also be compared with the 2018 Hadiya case, where the Supreme Court firmly supported the inclusion of the right to marry as part of the fundamental rights guaranteed by the Indian Constitution regardless of his or her religion. This decision marked a significant step towards recognizing the fundamental right to marry as a core component of individual freedom. In a recent legal ruling in Chakravorty Vs State (2023) concerning the right to marry same-sex couples, the Supreme Court reiterated that the right to marry must be fully enforced for heterosexuals though discarded for homosexuals.
A way forward
It's worth noting that the Assam government has already taken a strong stance against child marriage in the past. This new regulation on polygamy also shows that the government is actively engaged in regulating social practices to protect the well-being of its citizens. However, critics argue that such regulations may unfairly target specific communities. Any regulation related to marriage should be applied uniformly to all citizens, without discrimination. Targeting specific communities or groups could lead to feelings of marginalization and further divisions within society.
Article 15 (3) of the Constitution entitles the state to make laws to safeguard the interests of women and children. On this basis, the government should clearly make new laws that would clear all confusion because in such a scenario the victim in most of the cases is a woman.
To reduce the administration headache, the state should actually focus on the greater development of Government Employees and must protect their personal freedom. How this law will be enforced and how it will affect the employees, is a later part of the story, the loopholes in the system are very clearly evident. In conclusion, the regulation introduced by the Assam government regarding government employees seeking consent before remarriage is a complex issue. While the government may have valid concerns, it is crucial to strike a balance between protecting social interests and individual freedom.
The right to marry is a part fundamental right (Article 21) enshrined in the Indian Constitution, and any regulations related to it should be in harmony with the principles of personal autonomy and non-discrimination. As the discussion continues, it is essential to ensure that the rule is applied universally and without bias to maintain a just and equitable society.
Important Links
For more educational news, click here.