Distance Education
Last date extended for IGNOU Assignment Submission upto November 30 for Dec 2023 TEE
The deadline to submit IGNOU Assignments for December 2023 TEE is extended till November 30, ensuring ample time for thorough and quality submissions.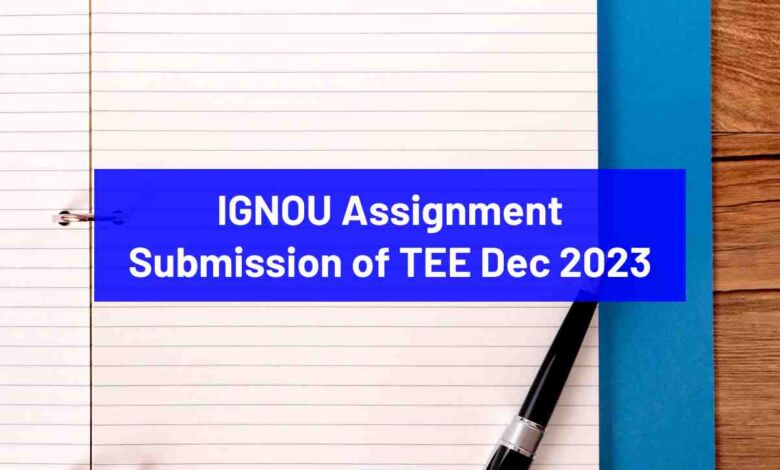 The Indira Gandhi National Open University (IGNOU) has extended the deadline for IGNOU Assignment Submission of Online and ODL courses for the December 2023 Term-End Examination (TEE) until November 30, allowing students additional time to ensure their submissions are comprehensive and well-prepared. Earlier on 6th October, the last date for IGNOU assignment submission was extended upto October 31st, and today- they have given another chance to students.
IGNOU assignments serve as a pivotal assessment tool to evaluate students' comprehension of their respective courses. These assignments carry a weightage of 30% in the final grade and are indispensable in determining a candidate's eligibility for the term-end examinations.
Also read: How to create ABC ID? Know its Benefits and check the detailed steps here
IGNOU Assignments of December-2023 TEE
All the students, who are currently studying in IGNOU and have applied or will apply for the Term End Examination to be held on December 2023, will need to submit Assignments for their respective courses. Candidates can find the assignments for their course by following the steps given below:
Visit the web service portal of IGNOU by clicking on the link given below
Select the type of programme from the given option
Next, click on the programme you are enrolled in
All assignments of that course will be displayed, choose the assignments for your subjects and download it
Guidelines for Assignment Preparation
To get good marks on assignments and avoid rejections, students need to follow the below-mentioned points:
A4 lined/ ruled sheets should be preferably used to write assignments.
The first page or cover page should contain all the essential personal and course details.
Assignments should be written in their own words, avoiding any form of plagiarism.
Adhere to the specified word limits, if given with the questions.
Structuring answers with clear headings and subheadings for enhanced readability is highly preferred.
Use a black ball pen for writing questions and a blue ball pen for answers to ensure clarity and distinction.
Ensure page numbers are written properly on each page.
Focus on the quality of content, as it significantly impacts your overall performance.
Submitting IGNOU assignments to the designated study or regional centre is crucial for ensuring the candidate's participation in the December 2023 TEE. Some study/ regional centres offer both online and offline assignment submission facilities to students, whereas others have only one mode of submission. For details about the mode of submission, candidates should visit the official website of their Regional centres or consult their programme coordinator and submit the assignments before the last date.
Important Links
For more Education news, click here.