Featured
Trending
Operation Ganga: The mission to evacuate Indian Nationals from war-torn Ukraine
Operation Ganga is a mission adopted by the Indian Government to evacuate all the Indians, especially students from Ukraine, amidst the ongoing Russia- Ukraine War.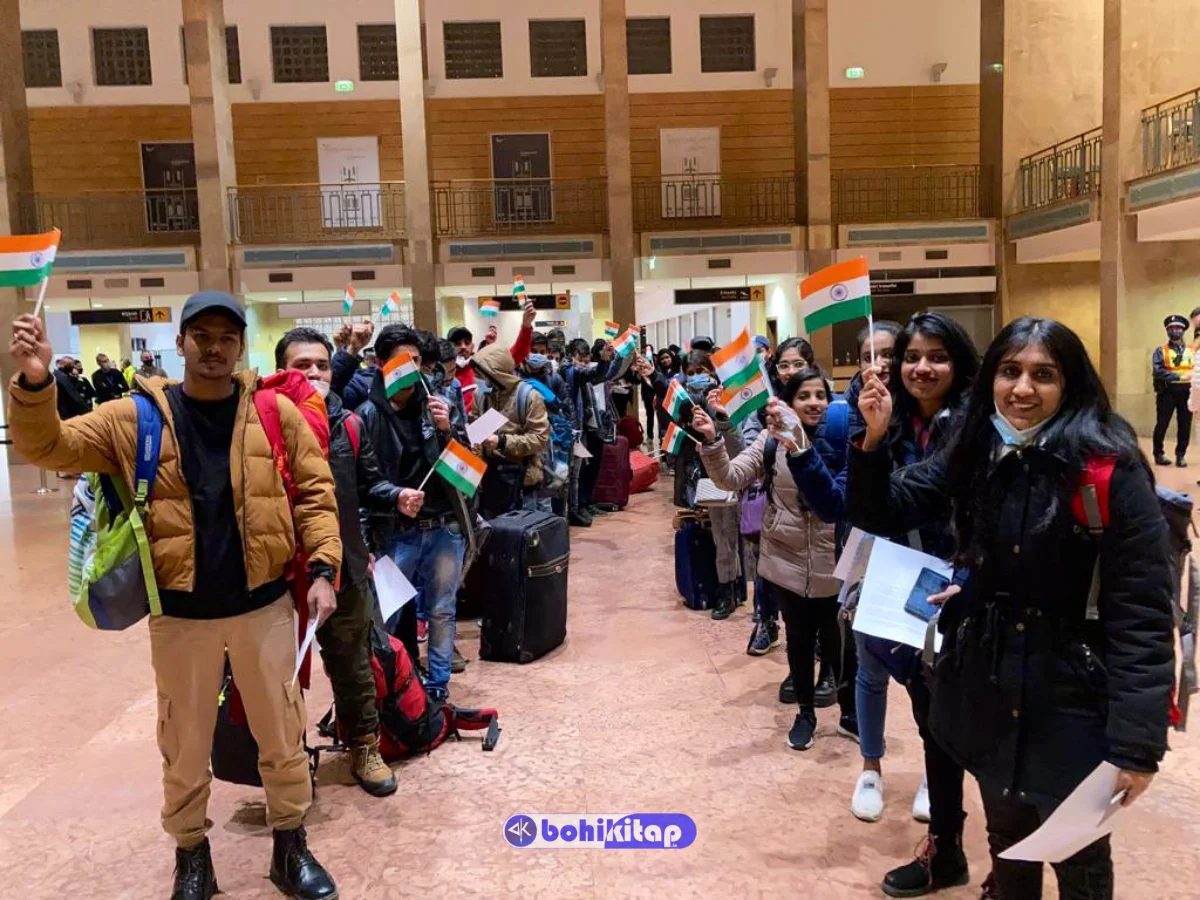 Operation Ganga: After Russia launched a full-scale invasion of Ukraine on Thursday, 24 February, months after deploying 1 lakh security forces at the border. Indian Government urgently issued multiple advisories for all Indians residing in Ukraine to quickly evacuate and come back to India. Despite that, the number of Indians residing in Ukraine could be roughly between 16,000 to 20,0000, but as per the Government official report, it is 16,000. It must be noted that the Ukrainian airspace was closed for civilian airlines from 24 February itself, due to this the Indian Embassy had to establish coordination with other embassies of neighboring countries like Poland and Hungary to establish safe evacuation channels.
Must read: Ukraine Crisis 2022: Indian students fear amidst Russian atrocity!
The Modi Government here intervened to evacuate the Indians who voluntarily didn't evacuate prior to the advisories issued. The flight named Dreamliner (Air Asia's Boeing 787) was chartered to carry out the evacuation process. Indian Government vowed to evacuate all the Indians in Ukraine, along with it bearing all the travel expenses, and named it Operation Ganga. Under this mission, Indians were first carried in buses, which were arranged by the Embassy, to the border areas of Ukraine, currently Hungary and Romania, and then they were rescued by the chartered flights to Delhi or Mumbai.
As of Sunday (February 27), a total of 907 Indians were evacuated under Operation Ganga by the Modi government. It must be mentioned that prior to the closure of the Ukrainian airspace, Air India had evacuated 240 people from Boryspil International Airport in Kyiv on Tuesday (February 22). This puts the total number of Indian evacuees at 1147.
Recent News: Updates from Ukraine
The issue of Ukraine has turned very dangerous and has seen the worst scenario since World War. The Indian students though have been in the evacuation process through Operation Ganga, many students are still stranded there. Today, an Indian student, hailing from Karnataka, was killed in the Ukrainian city of Kharkiv. This news was provided by the official Twitter handle of the Ministry of External Affairs.
The Prime Minister of India has spoken to his family and shared condolences with his family. The Indian embassy in Ukraine issued an advisory on March 1, urging all Indian nationals to leave Kyiv urgently, "preferably by available trains or through any other means available", as the Russian invasion continued on its sixth day.
Many students have also circulated many videos regarding the mismanagement of the Indian embassy. They say that no calls or clear information is been provided by them. Many have complained about the lack of communication facilities, as the trains are shut down and students are continuously travelling through long walks. The students are staying in the bunkers and many are waiting to get assistance from the authorities. Some videos were also circulated regarding the mishandling of Indian students by the Ukrainian Army members. The opposition has also staged protests demanding swift action in the evacuation process and completing it as soon as possible.
The Prime Minister of India was very much concerned with all the happenings as there were meetings with the cabinet and had decided that the Ministers would personally assist in the evacuation process. In the meeting, it was decided that the four ministers, Hardeep Puri, Jyotiraditya Sindhya, Kiren Rijiju, and General (Retd) VK Singh will help to assist the complete evacuation process. They will travel to Hungary, Romania (and Moldova), Slovakia, and Poland respectively to oversee the process. Many students are crossing the borders and are taking shelter in the near-border regions. Many students who have been evacuated through Operation Ganga were teary-eyed after meeting their guardians.
Cost of Evacuation!
The operational cost of the Air India Boeing 787 Dreamliner plane, chartered by the Indian government for Operation Ganga, is around ₹7,00,000 – ₹8,00,000 per hour, reported The Press Trust of India. the total cost borne by the airline will include expenses on fuel, navigation, crew, landing, and parking charges. Given that flights to Hungary and Romania from India take long hours, two sets of the crew will operate onboard the flight.
Thus, a round trip total cost, on the Air India flight can go upwards of ₹1,10,00,000. Given that around 1000 people have been repatriated from Ukraine to India so far, the number of stranded Indian nationals now stands at 15,000. If 226 Indians are evacuated on an average per flight, it will take 67 round trips of Air India Boeing 787 Dreamliner plane. As such, the cost borne by the Modi government on flights for Operation Ganga will be around ₹73 crores (assuming that each trip costs ₹1.1 crores).
What role is the States playing in Operation Ganga? 
Amidst the ongoing Russian-Ukraine conflict, the State governments have extended support to the 'Operation Ganga', carried out by the Modi government. Assam Chief Minister Himanta Biswa Sarma has been facilitating the accommodation and free air travel for students from Assam, who were repatriated from Ukraine.
In a tweet on Saturday night, he informed, "We welcome our students- Tanmayee & Siya, successfully evacuated from Ukraine and who have reached Mumbai just now. Received by our Assam Bhawan officials, we are making all arrangements for their stay & free travel to Guwahati. Our teams will ensure all assistances to such students."
Meanwhile, Deputy Chief Minister of Bihar, Tarkishore Prasad, announced on Sunday, "We have a list of about 273 students from Bihar (stranded in Ukraine), the number can go up. Bihar govt will bring them home on its expenses… Teams of Bihar Foundation (in Mumbai) and Bihar Bhawan (in Delhi) working on students' evacuation."
Also, on Saturday (February 26), Rajasthan Chief Minister Ashok Gehlot announced that Rajasthani students, who returned to India from Ukraine at their own expense, will be compensated by the State government. He also informed that the government will facilitate the travel of such evacuees to their home state, from cities such as Delhi and Mumbai.
Operation Ganga: How to reach helpline?
The government of India has set up a separate Twitter account as a helpline for rescue operations. The twitter id is @opganga.
For more Education News and updates, click here.