School & Boards
Assam
AHSEC Class 12 Datesheet is out now, check out the exam routine for HS Final Exams
After a long wait, AHSEC Class 12 Datesheet is out now. Checkout the complete routine for upcoming HS Final year examinations.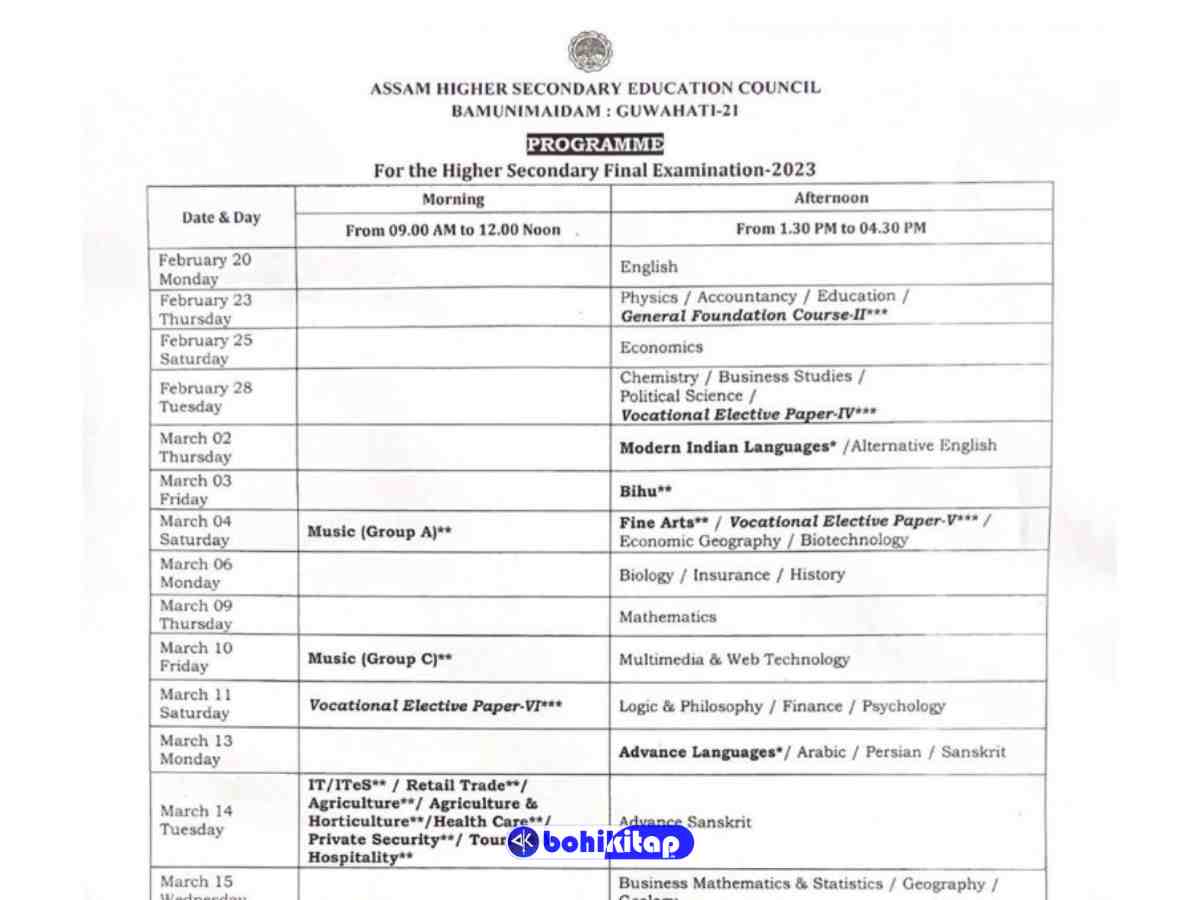 The Assam Higher Secondary Educational Council (AHSEC) has released the routine for the Class 12th or HS final year examination for the ongoing academic session 2022-23. This year, AHSEC will conduct the examinations from the 20th of February to the 20th of March, 2023. Whereas, the Practical exams will be held from January 25th, 2023 to 15th February 2023.
Today, the Education Minister of Assam, Ranoj Pegu took over his Twitter account to share the AHSEC Class 12 Datesheet. Earlier this month, on the 8th of December, SEBA released the datasheet for the Class 10th examinations.
Also read: LIC Golden Jubilee Scholarship 2022: Get complete info and apply now
AHSEC Class 12 Datesheet
Dates
Morning Shift
(09:00 AM – 12:00 NOON)
Evening Shift
(01:30 PM – 04:30 PM)
20th February
English
23rd February
Physics, Accountancy, Education, General Foundation Course-II
25th February
Economics
28th February
Chemistry, Business Studies, Political Science, Vocational Elective Paper-II
2nd March
Modern Indian Languages/ Alternative English
3rd March
Bihu
4th March
Music (Group A)
Fine Arts, Vocational Elective Paper V, Economic Geography, Biotechnology
6th March
Biology, Insurance, History
9th March
Mathematics
10th March
Music (Group C)
Multimedia and Web Technology
11th March
Vocational Elective Paper VI
Logic & Philosophy, Finance, Psychology
13th March
Advance Languages, Arabic, Persian, Sanskrit
14th March
IT, ITeS, Retail Trade, Agriculture, Agriculture & Horticulture, Health Care, Private Security, Tourism & Hospitality
Advance Sanskrit
15th March
Business Mathematics & Statistics, Geography, Geology
16th March
Music (Group B)
Computer Science & Application
17th March
Swadesh Adhyayan
Statistics
18th March
Anthropology, Sociology, Salesmanship & Advertising
20th March
Home Science
Entrepreneurship Development
Kindly Note
In the notification of AHSEC Class 12 Datesheet, AHSEC has mentioned the following important points:
Modern Indian Languages include Assamese, Bengali, Bodo, Garo, Hmar, Hindi, Khasi, Manipuri, Mizo, Nepali & Urdu.
Advance Languages include Advance Assamese, Advance Bengali, Advance Bodo, Advance Hindi & Advance Manipuri.
Music (Group A) includes: Hindustani Vocal, Kathak Dance, Tabla, Violin & Sitar
Music (Group B) includes: Sattriya Vocal Music (Borgeet), Sattriya Dance & Khol
Music (Group C) includes: (i) Assamese Folk Music/ (ii) Assamese Folk Dance
Vocational Papers include General Foundation Course-II, elective Paper-IV, V & VI.
For more educational news, click here.