Featured
Assam
University & Colleges
Proud Moment for Assam: Kumud Kalita from Pathsala will receive the National Award to Teachers 2023
Teachers like Kumud Kalita are a true gem for the society. Considering his efforts, Education Ministry has selected him for National Award to Teachers 2023.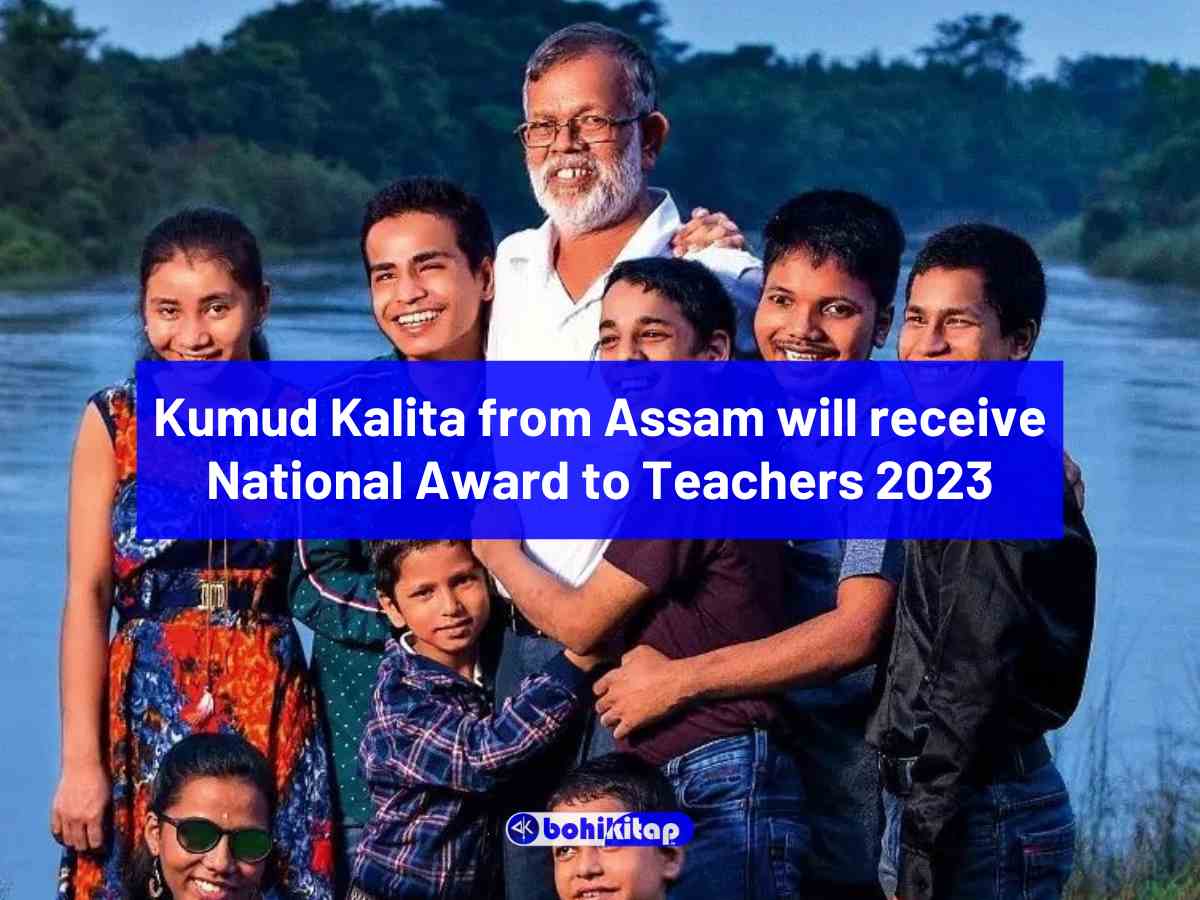 The Education Ministry of India has selected Sri Kumud Kalita, a teacher from Pathshala Senior Secondary School, Muguria, Pathsala, Bajali, Assam for the National Award to Teachers 2023. Alongside teaching, Kumud Kalita is also known for his noble services. He is associated with Tapovan Children's Home – an orphanage/ home for special children. Teachers like him are an inspiration for many and are a true gem for society.
Just like in previous years, this year too Government is all set to celebrate the unique contribution of some of the finest teachers in the country on the occasion of Teachers' Day. The sole purpose of the award is to honor those teachers who through their commitment have not only improved the quality of school education but also enriched the lives of their students.
Also read: Unacademy faces political heat amidst Karan Sangwan's controversy, gets sacked from the platform permanently!
List of Awardees: National Award to Teachers 2023
On September 5th this year, 50 teachers including Kumud Kalita will be conferred the award at Vigyan Bhawan by the Hon'ble President of India, Droupadi Murmu. Each award carries a certificate of merit, a cash award of Rs. 50,000/- and a silver medal. Here are the names of all the awardees of the National Award to Teachers 2023:
Name of Awardee
School
Satyapal Singh
GSSS Buroli, Rewari, Khol, Rewari, Haryana
Vijay Kumar
Govt. Sen. Sec. School, Mohtli, Indora, Kangra, Himachal Pradesh
Amritpal Singh
GoW Sen Sec School Chhapar, Pakhowal, Ludhiana, Punjab
Arti Qanungo
Skv Laxmi Nagar, East Delhi
Daulat Singh Gusain
Govt Inter College, Sendhikhal, Laiharikhal, Pauri Garhwal, Uttarakhand
Sanjay Kumar
Govt Model High School, Sedor 49d, Cluster 14, Chandigarh
Asha Rani Suman
Govt Upper Primary School, Kharkhada, Raiqarh, Alwar, Rajasthan
Sheela Asopa
GGSSS, Shyam Sadan, Jodhpur, Rajasthan
Shyamsundar Ramchand Khanchandani
Government Higher Secondary School Silvassa, Daman And Diu
Avinash Murlidhar Parkhe
Disha School For The Special Children Panaji, llswadi, North Goa
Deepak Jethalal Mota
Shree Hundraibag Primary School, Kachch, Gujrat
Dr. Ritaben Nikeshchandra Fulwala
Sheth Shree P.H. Bachkaniwala Vidhyamandir, Surat, Gujrat
Sarika Gharu
Govt. H. S. School, Sandiya, Hoshangabad, Madhya Pradesh
Seema Agnihotri
CM Rise Govt. Vinoba H.S.School, Ratlam, Madhya Pradesh
Dr. Brajesh Pandey
Swami Atmanand Govt. English School, Sarguja, Chhattisgarh
Md. Ejazul Haque
MS Diwankhana, Chatra, Jharkhand
Bhupinder Gogia
Sat Paul Mittal School, Ludhiana, Punjab
Shashi Sekhar Kar Sharma
Kenduapada Nodal High School, Bhadrak, Odisha
Subhash Chandra Rout
Brundaban Govt. High School, Jagatsinghpur, Odisha
Dr. Chandan Mishra
Raghunathpur, Nafar Academy, Howrah, West Bengal
Reyaz Ahmed Sheikh
Govt. Middle School, Poshnari, Chittergul, Anantnag, Jammu and Kashmir
Asiya Farooqui
Primary School, Asti Nagar, Fatehpur, Uttar Pradesh
Chndr Prakash Agrwal
Shiv Kumar Agarwal Janta Inter College, Bulandshahr, Uttar Pradesh
Anil Kumar Singh
Adarsh Girls Senior Secondary School, Ramgarh, Bihar
Dwijendra Kumar
M.S. Madhuban, Bangaon Bazaar, Bajpatti, Sitamarhi, Bihar
Kumari Guddi
High School Singhia Kishanganj, Bihar
Ravi Kant Mishra
JNV, Beekar, Datia, Madhya Pradesh
Manoranjan Pathak
Sainik school, Tilaiya Kanti, Chandwara, Kodarma, Jharkhand
Dr. Yashpal Singh
Eklavya Model Residential School, Phanda, Madhya Pradesh
Mujib Rahiman K U
Kendriya Vidyalaya, Kanjikode, Palakkad, Kerala
Chetna Khambete
Kendriya Vidyalaya No. 2, BSF, Indore, Madhya Pradesh
Narayan Parmeshwar Bhagwat
Shri Marikamba Govt PUC High School Section Sirsi, Karnataka
Sapna Shrishail Anigol
K.L.E. Society's S.C.P. Jr College High School, Bagalkot, Karnataka
Netai Chandra Dey
Ramakrishna Mission School, Narottam Nagar, Arunachal Pradesh
Ningthoujam Binoy Singh
Chingmei Upper Primary School, Keibul Lamjao, Manipur
Dr. Puma Bahadur Chhetri
Govt. Senior Secondary School, Soreng, Sikkim
Lalthianghlima
Govt. Diakkawn High School, Kolasib, Bilkhawthlir, Kolasib, Mizoram
Madhav Singh
Alpha English Higher Secondary School Lumsohdanei, Umling, Ri Bhoi, Meqhalaya
Kumud Kalita
Pathshala Senior Secondary School, Muguria, Pathsala, Bajali, Assam
Jose D Sujeev
Govt. Model Girls Higher Secondary School, Pattom, Thiruvananthapuram, Kerala
Mekala Bhaskar Rao
Mcps Kondayapalem Sw Sc Colony, Kondayapalem, 20th Division,
Spsr Nellore, Andhra Pradesh
Murahara Rao
Uma Gandhi Gvmcp School Sivajipalem, 21, Visakhapatnam, Andhra Pradesh
Settem Anjaneyulu
S.R.R Z.P High School Masapeta, Rayachoti, Annamayya, Andhra Pradesh
Archana Nooguri
Mpps Rebbanapally Rebbanpally, Luxettipet, Mancherial, Telangana
Santhosh Kumar Bhedodkar
Mandal Parishad Upper Primary School Nipani, Bheemour, Adilabad, Telangana
Ritika Anand
St. Marks Senior Sec Public School, Paschim Vihar, A-Block Meera Baah, West Delhi
Sudhanshu Shekhar Panda
K.L. International School, Meerut, Uttar Pradesh
Dr. T Godwin Vedanayagam Rajkumar
Government Boys HR Sec. School, Alanganallur, Madurai, Tamil Nadu
Malathi S. S. Malathi
Government Higher Secondary School Veerakeralampudur, Keelappvoor, Tenkasi, Tamil Nadu
Mrinal Nandkishor Ganjale
Z P School Pimpalgaon Tarfe, Mahalunge, Ambeaaon, Pune Maharashtra
List of Awardees from Previous Years
For more such Education News, click here.