Featured
Unacademy faces political heat amidst Karan Sangwan's controversy, gets sacked from the platform permanently!
Political influence have been impacting Educational platforms in various ways. Karan Sangwan, an Unacademy educator got trapped in the same loop where he just meant to educate not else.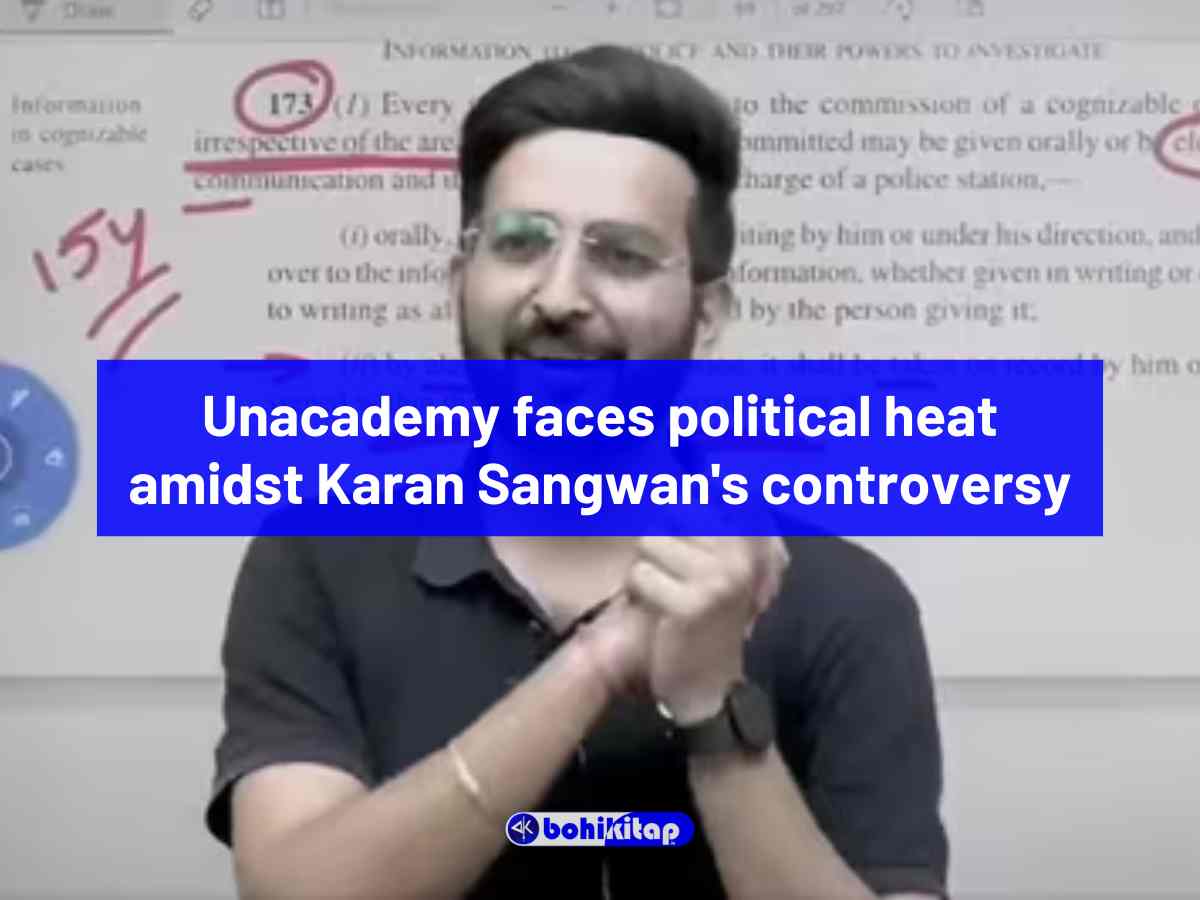 Unacademy is an Indian online learning platform that offers a range of courses and tutorials for students preparing for competitive exams. It has been in the news recently due to a controversy involving one of its educators, Karan Sangwan. Sangwan was accused of making derogatory remarks against the Government during one of his live classes on the platform.
The controversy began when a video clip of Sangwan's class went viral on social media, in which he was stating to students the importance of education in Indian politics. In the viral video, Karan Sangwan can be heard encouraging students to choose educated politicians. He discussed the recent legislation introduced in the Lok Sabha by the government, with the intention of replacing the outdated IPC, CrPC, and Indian Evidence Act that were established during British rule. He focussed on saying that changing names will not change any result.
Also Read: Freedom of Expression crumbles in Ashoka University: A Research Paper Leads to resignation of its eminent professor!
Political influence in education platforms such as Unacademy creates negativity and fear
The intersection between political pressure and educational platforms has raised concerns about freedom of expression and the role of constitutional bodies. The termination of Karan Sangwan, an educator on YouTube and affiliated with Unacademy, has ignited a debate about the boundaries of speech and the potential impacts on both educators and students. He is an educator known for his insightful lessons on YouTube and a member of the Unacademy community, found himself at the centre of controversy when he expressed his views on a recent law passed in the Lok Sabha.
The intertwining of politics and education is a complex issue, particularly in a country as politically charged as India. While it is undeniable that politics plays a significant role in all aspects of Indian society, the question remains whether educational platforms should be kept separate from the political discourse. Critics argue that education should be neutral ground, free from the biases that can arise from political affiliations. These affiliations affect the state of mind of both students and educators.
The termination of Sangwan has prompted discussions about the balance between freedom of expression and the responsibility of educational institutions. Critics argue that Sangwan's dismissal infringes upon his right to voice his opinions, especially considering that he expressed his views on his personal platform rather than directly on Unacademy's official channels. This incident will also impact other educational tutors and will impart fear in their minds during the classes. This incident has also raised questions about whether educators should be held accountable for their personal views expressed outside of their professional roles.
No response from the top management accuses Karan
In various Media Channels, Karan has been saying that he had no intention of speaking for or against any political party. He even tried to explain and give justification to the top management team, but no one responded. He was terminated by saying he has breached the Code of Conduct of the Unacademy. As he was related to the Unacademy since 2021, he must have been given a space for clarification.
The incident has also brought to light the potential influence of political affiliations on educational institutions, with Roman Saini, the head of Unacademy, facing accusations of promoting a particular political stance. Saini has faced allegations of supporting the Right Wing party and reportedly made a statement on the issue via Twitter. This has added fuel to the fire, with many questioning whether Saini's political affiliations could potentially influence the platform's policies and the content promoted through Unacademy's educational channels.
As the debate rages on, it is important to consider the potential ramifications for students. Educational platforms like Unacademy have become crucial resources, especially in the digital age where online learning has become a norm. If educators are deterred from expressing their thoughts and opinions, students may miss out on valuable insights and critical discussions that can contribute to their holistic development.
The termination of Karan Sangwan and the subsequent discussions about the role of politics in education have highlighted the delicate balance between freedom of expression and the responsibilities of educational platforms. The incident has drawn attention to the potential influence of political affiliations on educational institutions and the need to ensure that the exchange of ideas remains unimpeded. As India navigates its complex political landscape, the challenge lies in finding a way to uphold democratic values while safeguarding the integrity of education from undue political pressures.
For more educational news, click here.