University & Colleges
UGC warns students on online PhD programmes; here is all you should know about
In a recent notification, UGC has come up with a warning about the online PhD programmes, that are not as per UGC Regulation 2016.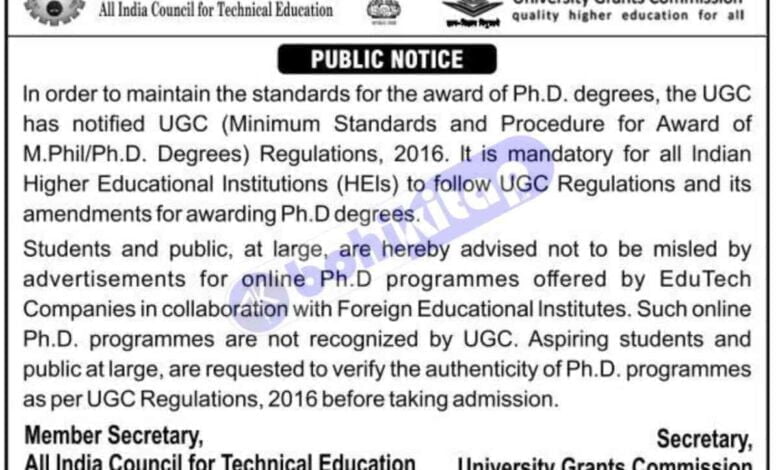 The University Grants Commission (UGC) has recently released a public notice and warned students and their parents about online PhD programmes. As mentioned in the notification, the majority of the PhD programmes provided by EduTech companies in collaboration with Foreign Educational institutes are not recognised by UGC. Students pursuing online PhD programmes are advised to look into the matter taking into account the mentioned information in this article.
Also read: SSC GD Constable Recruitment 2022 is active now; here is all you should know
What UGC recommends?
The AICTE, UGC in its official notification said, "Students and the public at large are hereby advised not to be misled by the advertisements for online PhD programmes offered by EduTech companies in collaboration with foreign educational institutions. Such online PhD programmes are not recognised by the UGC. Aspiring students and the public at large, are requested to verify the authenticity of Ph.D. programmes as per UGC Regulation 2016 before taking admission."
Why is UGC against online PhD programmes?
UGC recently expressed that they do not recognise the online PhD programmes offered by EduTech companies. These companies are offering the programmes in collaboration with some foreign educational institutions. And many of these programmes do not meet the Minimum Standards and Procedure for the Award of M.Phil and PhD degrees, which is set under UGC Regulations- 2016.
Also, it is seen that a few such companies use misleading advertisements to promote their courses, and accordingly many innocent students fall into this trap. Students get enrolled without knowing much about the validity of certificates, or recognition of the programme by UGC and other regulatory bodies. Hence, the warning laid out by UGC seems to be a legitimate one and might turn out to be an eye-opener for many.
For more educational news, click here.