Featured
University & Colleges
Amrit Kaal in Assam! University tally reaches 29; students expect more
The Amrit Kaal has been knocking the doors of education sector as Assam's University tally reaches 29. The govt is focussed in increasing education quality.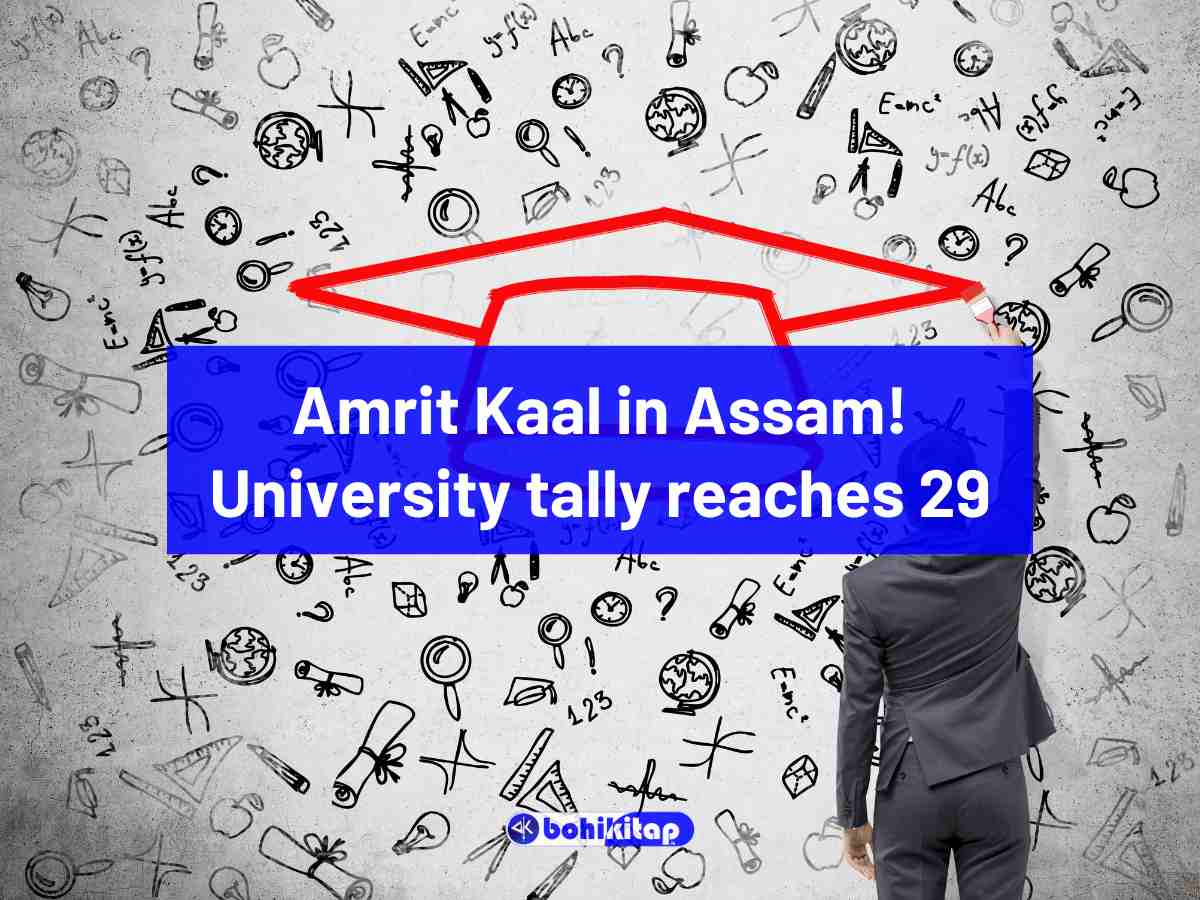 Assam's University tally Reaches 29: In a significant move to revitalize the education system and ensure equitable distribution of resources, the government of Assam has embarked on a transformative initiative to convert colleges into universities. This strategic decision aims to open up more seats for master's and PhD courses while alleviating the burden on state universities, such as Gauhati University. With the establishment of new universities, the total count has now reached an impressive 29.
Alongside the expansion of Universities in Assam, the state has witnessed a significant increase in the number of medical colleges. This growth reflects the government's commitment to enhancing higher education and providing diverse opportunities for students. With the establishment of new universities, Assam is poised to become a hub of academic excellence, the Amrit Kaal, resulting in intellectual growth and contributing to the overall development of the region.
Also Read: Assam Govt announces 7 new Universities, Handique Girls College dropped out, despite previous announcement
Assam's University Tally Reaches 29: List of Universities
As the University tally reaches 29 in the state, the list of total Universities (State, Central and Private) have been provided below:
Existing State Universities of Assam
| | |
| --- | --- |
| Gauhati University | Rabindranath Tagore University |
| Dibrugarh University | Majuli University of Culture |
| K.K. Handique State Open University | Birangana Sati Sadhini Rajyik Viswavidyalaya |
| Kumar Bhaskar Barman University | Assam Science and Technology University |
| Assam Women University | Assam Rajiv Gandhi University of Co-operative Management |
| Cotton University | Bodoland University |
| Bhattadev University | Madhabdev University |
New State Universities of Assam
Jagannath Barooah College
North Lakhimpur College
Nowgong College
Sibsagar College
Kokrajhar Government College
Gurucharan College
Bongaigaon College
Central Universities
Tezpur University
Assam University
Private Universities
Don Bosco University
Krishnaguru Adhyatmik Viswavidyalaya
Mahapurush Srimanta Sankardev Viswavidyalaya
Royal Global University
Kaziranga University
Down Town University
More number of Universities will benefit the state
There will be far-reaching benefits for the state as Assam's University tally reaches 29. It will not only enhance the availability of higher education opportunities but also facilitate improved funds distribution. As universities are eligible for more significant funding from various sources, including government grants, research funding, and private investments, the financial resources allocated to education in Assam are expected to be distributed more equitably among the newly established universities.
Furthermore, the conversion will reduce the burden on existing state universities, such as Gauhati University, which has been maintaining a large number college student population and their academics. With the opening up of additional universities and the subsequent distribution of students, the load on these universities will be significantly reduced, enabling them to focus on enhancing the quality of education, research, and infrastructure.
Assam's University tally Reaches 29: Many problems still lie!
Future of class 11-12 students
However, as the government proceeds with the conversion of colleges into universities, concerns have been raised regarding the educational pathway for students in classes 11 and 12. Currently, many students pursue their higher secondary education in colleges, but the transformation of these colleges raises questions about the availability of seats for higher secondary courses.
To address this issue, the government of Assam is contemplating the conversion of high schools into higher secondary institutions. This step would ensure a seamless transition for students, maintaining the balance between the increased university seats and the provision of quality education at the higher secondary level. The government is expected to release detailed guidelines outlining the proper procedure and timeline for the conversion, thus providing clarity and reassurance to students and their families.
Funds disbursement for maintenance
There are many cases and scenarios in the state, where there are insufficient funds for basic maintenance. There were many cases and protests seen in institutions such as Cotton University where basic electricity facilities have been not provided to the students. Many research workers face severe problems in State Universities.
In this time, government's decision to transform colleges into universities is a progressive step towards strengthening the educational ecosystem in Assam. By expanding the opportunities for higher education, ensuring proper guidelines for students transitioning from high schools to higher secondary institutions, and enhancing funds distribution, this initiative will not only benefit individual students but also contribute to the overall development of the state. As Assam's educational landscape continues to evolve, these measures will foster a culture of learning, research, and innovation, driving the state towards a brighter future.
For more educational news, click here.