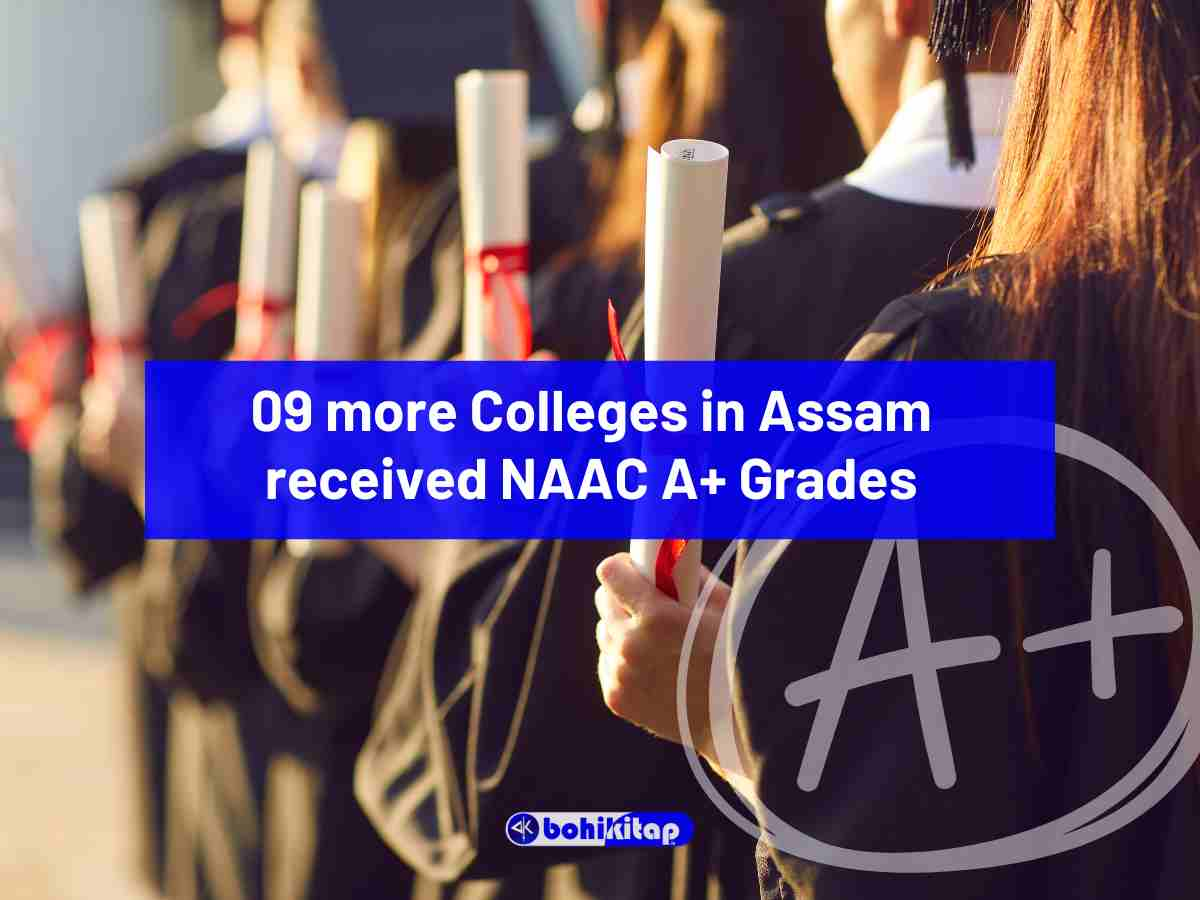 In a remarkable display of educational excellence, nine Colleges in Assam have received the prestigious A+ grade from the National Assessment and Accreditation Council (NAAC). The announcement was made during the Teacher's Day celebration held at Srimanta Sankardeva Kalakshetra in Panjabari, Guwahati.
Assam, known for its rich cultural heritage and natural beauty, is now making headlines for its impressive educational achievements as well. The state award for the teachers was also felicitated at the same event. On the same day, a teacher from Pathsala, Kumud Kalita received the National Award to Teachers 2023 from President Droupadi Murmu.
List of Colleges that secured NAAC A+ Ranking
The NAAC, a prestigious body responsible for assessing and accrediting higher education institutions in India, plays a pivotal role in ensuring that institutions maintain high standards of quality and excellence. The list of colleges in Assam that have been recently accredited to A+ categories is as follows:
| Sl No | Name of the Colleges | Location |
| --- | --- | --- |
| 1 | Bahona College | Jorhat |
| 2 | Nanda Nath Saikia College | Titabar |
| 3 | Chandra Kamal Bezbaruah College | Jorhat |
| 4 | Mayang Anchalic College | Morigaon |
| 5 | Bholanath College | Dhubri |
| 6 | Digboi College | Tinsukia |
| 7 | Sonaapur College | Kamrup |
| 8 | Furkating College | Golaghat |
| 9 | Jagiroad College | Jagiroad |
The principals of the respective colleges in Assam were also present during the felicitation programme in the Kalakshetra, Panjabari, Guwahati. They were also felicitated for their impressive work in their respective colleges. A few of the colleges also got accolades for their well-developed lab facilities in various departments of the colleges. Ranoj Pegu, the education minister of the state was also present at the event and congratulated the authorities and students of these 9 colleges in Assam.
After the event, Ranoj Pegu took to X (earlier Twitter) and wrote: "Also, felicitated 9 College Teachers for achieving patents to their research outcomes and the Principals of Bahona College, Nanda Nath Saikia College & Chandra Kamal Bezbaruah College, Jorhat; Bholanath College, Dhubri; Digboi College, Tinsukia; Furkating College, Golaghat; Jagiroad College & Mayang Anchalik College, Morigaon; Sonapur College, Kamrup (M) for achieving NAAC_India A+ Grade. My best wishes to all for their future endeavours. May they continue to strive for excellence and take the state's education sector to new heights."
Assam has been on a trajectory of educational reform for several years now. The government has prioritized investments in education, infrastructure, and faculty development to create an enabling environment for students. This approach has yielded positive results, with colleges in Assam consistently improving their educational offerings and outcomes.
Other key initiatives by Assam Govt
One of the key initiatives that reflect Assam's dedication to education is the Gunotsav program. This program has been instrumental in enhancing the quality of primary education in the state. Gunotsav aims to uplift the standards of primary education, ensuring that every child in Assam receives quality education from the very beginning of their academic journey.
In addition to the Gunotsav program, the expansion of medical education is reaching new heights. The state has expanded its medical education infrastructure, creating nearly 1,500 additional seats for students aspiring to pursue medical studies. There will be nearly 24 medical colleges that will be fully functional within the upcoming years, as stated by CM Sarma last year. This expansion not only addresses the growing demand for healthcare professionals but also encourages students to explore opportunities within the state, ultimately contributing to Assam's socio-economic development.
These achievements like nine more colleges in Assam getting NAAC A+ accreditation underscores the significant steps that Assam has taken in the field of education. All this progress showcases the state government's commitment to improving growth and development in the education sector.
For more educational news, click here.