Jobs
Assam Police Recruitment: More than 5000 new vacancies; Update on Direct Recruitment
CM Sarma has made an announcement about 5000 new job vacancies under Assam Police recruitment drive, which will occur from next month.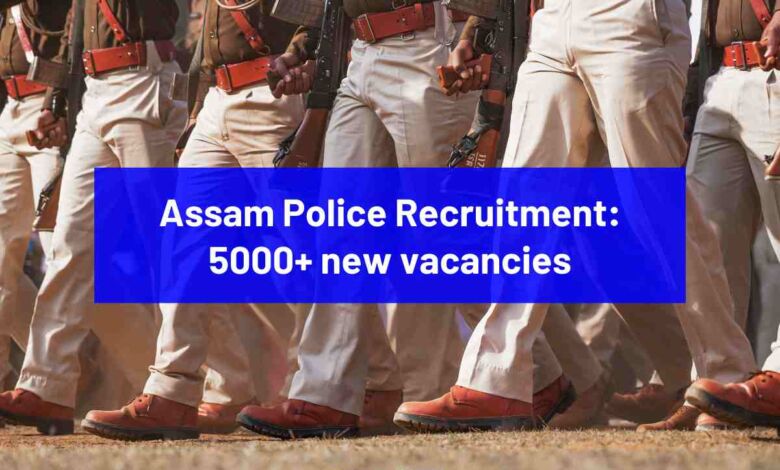 In a significant announcement regarding Assam Police recruitment, Himanta Biswa Sarma, the Chief Minister of Assam declared the initiation of a massive recruitment drive. This latest announcement aims to fill over 5,000 vacancies in the Police department. This mega Assam Police recruitment drive is expected to be the last of its kind, as it is expected to fill nearly all the existing jobs in Assam within the Police department, effectively making it a zero-vacancy entity.
This landmark decision by Chief Minister Sarma is set to bring much-needed relief to the Assam Police Department, which made headlines for the shortage of personnel for quite some time. The notification for the Assam Police recruitment drive is scheduled to be released on October 7th, 2023, as reported by various news portals.
Also Read: Cachar College Recruitment 2023: Apply now for 09 Vacancies of Assistant Professors
Assam Police recruitment: 2 lakhs job in Assam to become a new reality
The Assam Police recruitment drive is expected to have a far-reaching impact on Assam's employment landscape. CM Sarma had previously announced plans to create an impressive 2 lakh jobs in the state, and with the upcoming recruitment, this goal is set to be exceeded. The move not only fulfils a critical need within the police department but also contributes significantly to the overall employment opportunities in Assam.
This announcement has been met with enthusiasm and anticipation from job seekers across the state, as it represents a significant step towards reducing unemployment and strengthening the law enforcement apparatus. Last month, a notification was released by the State Police Recruitment Board of Assam for recruitment into the posts of Inspector, Sub-Inspector, Head Constable, and Constable posts in the Assam Police Border Organization as well.
Update on Assam Direct Recruitment Exam
There is also an update regarding the Assam Direct Recruitment Examination 2023. CM Sarma has now officially confirmed that the exam notifications will be released in October 2023. Previously, it was informed that the advertisement for the Assam Direct Recruitment Exam would be published on September 10, 2023, though it got delayed.
This move regarding various recruitment processes is in line with the commitment of CM Sarma to streamline the recruitment process and ensure that it aligns with the state's needs and requirements.
Important Links
For more educational news, click here.