Featured
Addressing Kota's Suicide Stories: What Solutions can we opt beyond Ceiling Fan Changes?
The suicide stories in various parts of the country has been an never ending story. The solution to prevent suicide in Kota by changing the Fans, still asks many queries.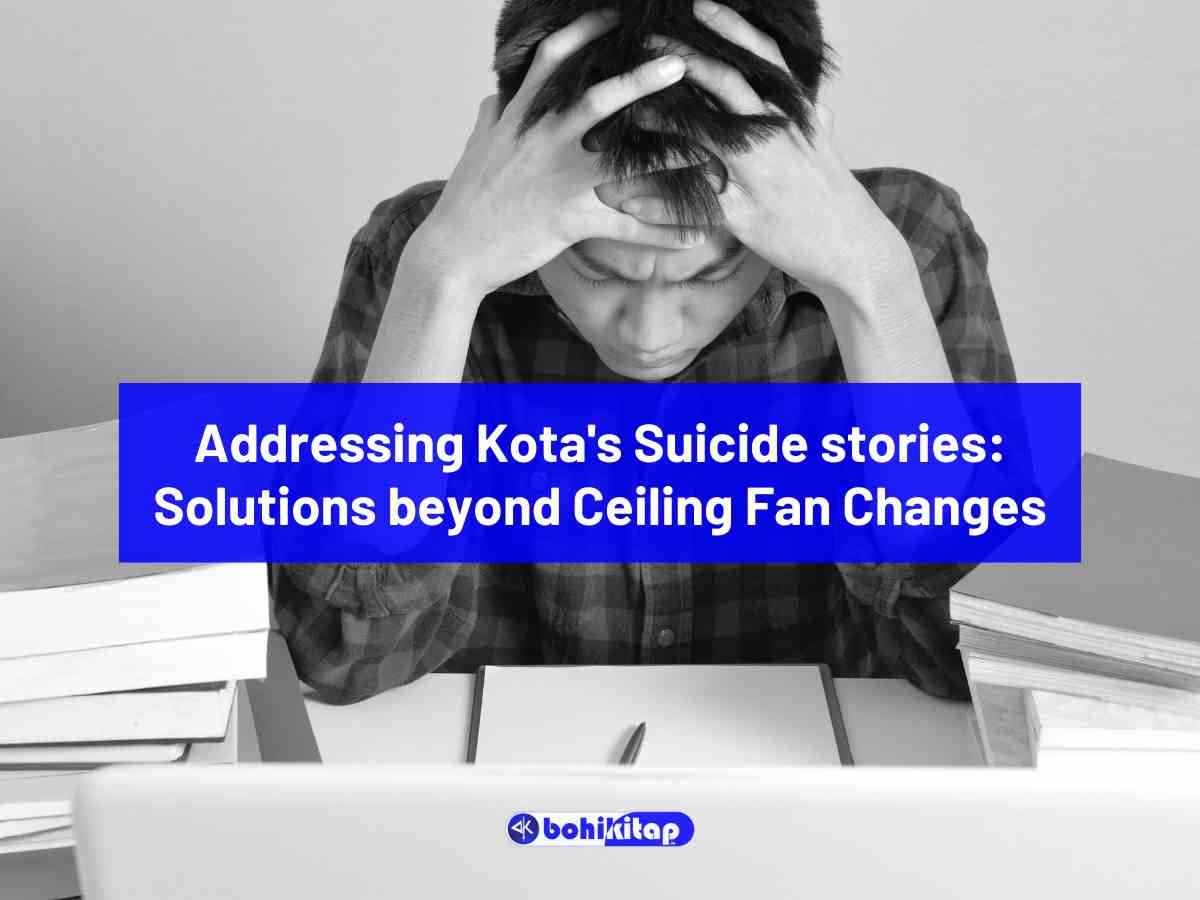 In a bid to combat the alarming suicide rates among students in Kota, Rajasthan, the administration has taken a unique approach – installing spring-based fans that aim to prevent individuals from committing suicide by hanging. While this move is a step in the right direction, experts argue that a broader approach encompassing mental health awareness, choosing alternative career paths, and reformation of the educational hierarchy is important to truly address the underlying issues.
This year alone, 22 tragic deaths have been reported in Kota, highlighting the urgency of the situation. However, many believe that altering the installation of ceiling fans is a band-aid solution that fails to address the root causes of the problem. Instead, an initiative is necessary which will include multiple elements to foster a healthier educational environment for the students.
Also Read : Unacademy faces political heat amidst Karan Sangwan's controversy, gets sacked from the platform permanently!
Addressing Kota's Suicide stories: A worrisome data
The data from the 2021 National Crime Records Bureau (NCRB) report reveals a sad reality. The suicides of individuals educated up to matriculate/ secondary level were prevalent in Maharashtra, Tamil Nadu, and Kerala, indicating the need for systemic changes in these regions. Similarly, suicides among those educated up to the middle level were prominent in Maharashtra, Tamil Nadu, and Madhya Pradesh. The data also highlighted the concerning issue of suicides among individuals with no education, with Telangana, Madhya Pradesh, and Tamil Nadu recording the highest numbers.
Kota, famous for its coaching centres, has now become synonymous with student suicides. The statistics show a disturbing trend – 15 students lost their lives to suicide in Kota in 2022, 18 in 2019, 20 in 2018, seven in 2017, 17 in 2016, and 18 in 2015. In the first eight months of 2023 alone, an average of three suicide incidents occurred each month. This not only underscores the immediate need for intervention but also highlights the nature of the problem.
Reasons for Suicides in different parts of the country
The report from NCRB has also shown the reasons behind the suicides in India. 'Major Family Issues' and 'Health Conditions' were the leading factors behind suicides, comprising 33.2% and 18.6% of the total reported cases in 2021. 'Substance Abuse or Alcohol Dependency' (6.4%), 'Challenges Linked to Marriage' (4.8%), 'Romantic Relationships' (4.6%), 'Financial Insolvency or Debt' (3.9%), 'Lack of Employment' (2.2%), 'Academic Failures' (1.0%), 'Professional or Career Challenges' (1.6%), and 'Economic Hardship' (1.1%) constituted the other causes contributing to instances of suicide.
The problems regarding family issues do not only target the aged citizens but also the students. The 1% of the students who die due to Academic Failures are the result of the educational hierarchy that exists in the country. The discriminatory educational hierarchy leads to stress and pressure on students. This rigid mindset contributes to a hierarchy of subjects and careers, where non-STEM fields are often undervalued. Efforts to shift the focus from conventional courses to alternative career paths must be made, emphasizing that success is not limited to engineering or medical professions. This requires collaboration between educational institutions, parents, and society as a whole.
The prevalence of suicides in Kota is not only attributed to the pressure of exams but also to the lack of awareness and sensitivity towards mental health. Society's expectations and the pressure from families to perform exceptionally create an environment where seeking help is often seen as a sign of weakness. Schools, colleges, parents, and policymakers must work together to break down this stigma and create an atmosphere where students feel comfortable discussing their mental health struggles.
A simple but Long-term solution
Kota's ceiling fan solution, while innovative, is only a small part of the larger conversation about the education system and mental health. Moreover, spreading awareness throughout the community, getting parents actively involved, and helping teachers understand what causes stress for students can all work together to make the environment. There may be an introduction to the Mentor-Mentee curriculum where teachers can form groups of students and hold a discussion session on a weekly basis. Apart from academic stress, this group must be able to address non-academic discussions as well.
To truly make a difference, there needs to be a paradigm shift in societal values, educational policies, and the way success is defined. The focus should be on nurturing holistic development, promoting mental well-being, and offering equal opportunities for students to pursue their interests. By addressing these issues, Kota can transform from being a city known for competitive pressure to one that supports and empowers its students to excel in a well-rounded and healthy manner.
For more educational news, click here.